Buy Here Pay Here Requirements: Learn to Get Easily Approved!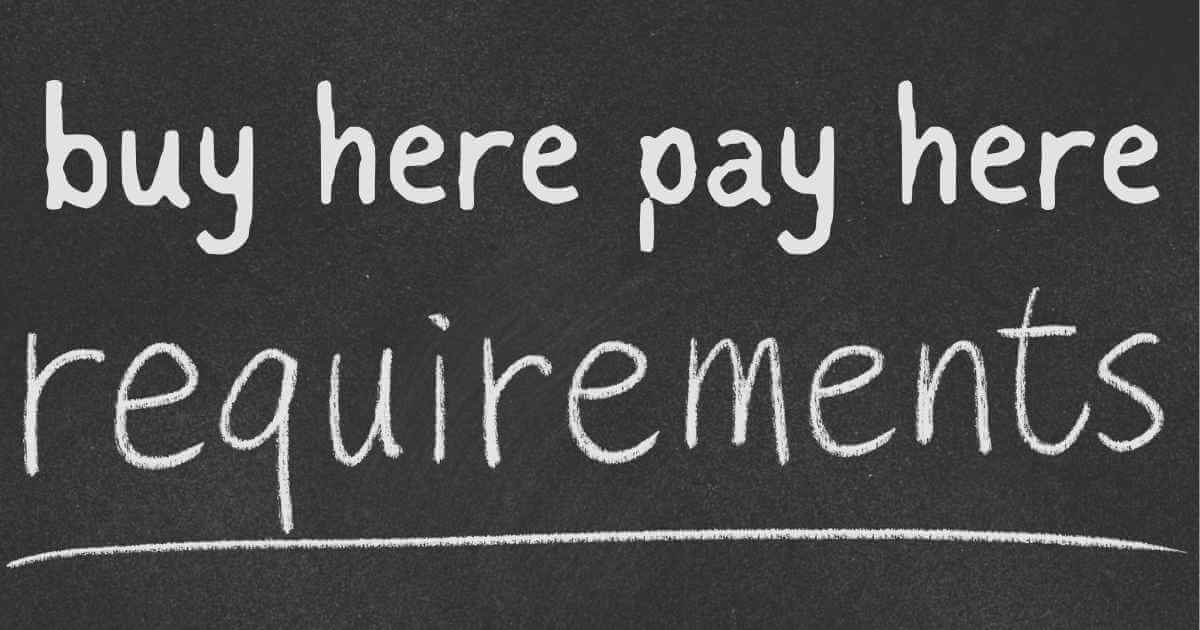 ---
Your Best Guide to Buy Here Pay Here Requirements
---
Turns out that 30.91% of Americans struggle to get approved for a car they desperately need. Why, you ask? Credit challenges…
If this is you, you're not alone. Best of all, we're going to help you learn how to put a stop to that now. This guide to Buy Here Pay Here requirements will help you navigate the fast lane to auto financing.
Are you ready to take a thrilling ride in your next car and put a stop to credit struggles? Fasten your seatbelt as we explore how this unique financing approach can transform your credit roadblocks into green lights!
---
Buy Here Pay Here Requirements
– Table of Contents –
---
---
Introduction to Buy Here Pay Here
---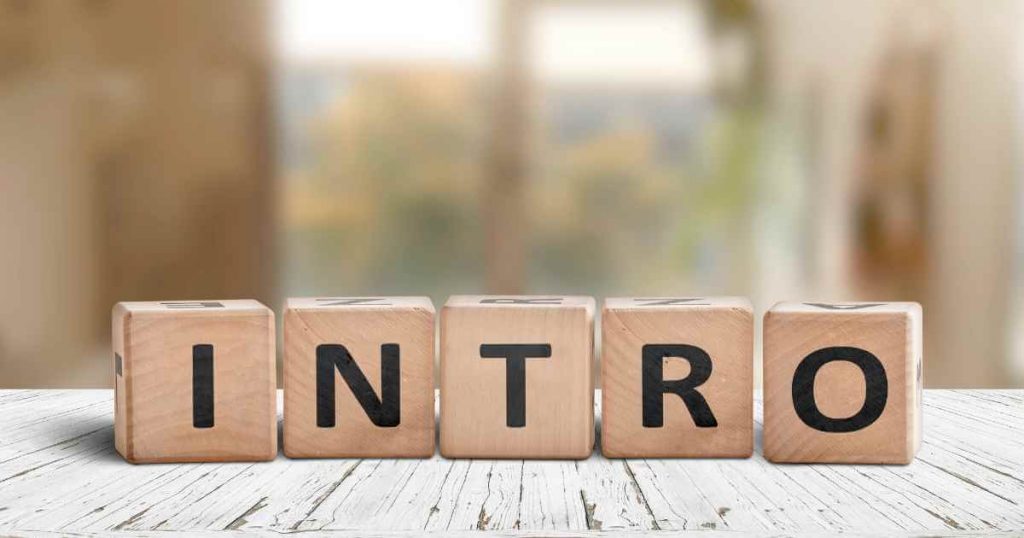 "Buy Here Pay Here" (BHPH) financing is like that friendly traffic officer who helps you navigate the tricky intersections of auto financing. When traditional lenders show you the red light due to credit issues, BHPH dealerships are ready with the green signal, saying, "Don't stop, keep moving!"
If you're one of those credit-challenged individuals, BHPH financing can be a game changer. It's like having a personal navigator on board. They help you keep your eye on the road without worrying about detours or dead ends.
This type of car loan is considered subprime car loans or in house auto loans.
Our friends at Westland Auto Sales have taken a unique approach to providing in-house financing options. They're like your GPS system. They guide you straight to your dream car while ensuring your credit journey doesn't turn into a bumper-to-bumper traffic nightmare.
They are the best way to get approved for bad credit auto financing. Did you think we would leave out those of you with no credit history? Come on!
They cater to those seeking no credit car loans with a guaranteed approval car loans process that is…well…unmatched!
To understand more, check out the following on the BHPH process.
Understanding Buy Here Pay Here Requirements Eligibility Criteria
You might be wondering, "What's the roadmap to qualify for BHPH financing?" It's simpler than trying to change a flat tire in a thunderstorm.
Most dealerships consider your income, employment history, and residence stability – not your past credit mistakes. It's like judging a car by its engine performance, not its dents and scratches.
They can get you approved for in-house auto loans as long as you can meet their basic requirements.
So, whether you're a waiter or a web developer, as long as you have a stable income, you're on the right track.
It's kind of like proving you can keep the gas tank filled regularly – essential for any journey, right?
The Difference in Buy Here Pay Here Requirements for Credit
If traditional lenders are like finicky car show judges, BHPH dealerships are more like your easygoing road trip buddies. They specialize in approving individuals with bad credit, no credit, or previous repossessions.
It's like they see your financial potholes and say, "No biggie, we can navigate around those!"
The best part?
BHPH financing can be a handy tool to rebuild your credit. Think of it as a mechanical workshop for your credit score. Every on-time payment you make is like a tune-up that boosts your credit performance.
To learn more about what sets finance here dealerships apart, visit here.
Buy Here Pay Here Requirements: Income Verification
When applying for Buy Here Pay Here financing, applicants are required to verify their income. This process is integral to confirming the financial stability of an individual. We need to make sure they are capable of keeping up with loan payments.
You can provide proof of income through several means.
Regular employment income is the most common. This is generally verified with recent pay stubs or direct deposit records.
Self-employment income is also acceptable. Tax returns or bank statements are usually acceptable as proof.
Additionally, income from social security or disability benefits is recognized.
Any reliable and steady source of income that can show your ability to make regular payments is valid.
Income verification is essential to the Buy Here Pay Here financing process. It provides assurance that applicants have a regular income stream to maintain their loan payments. This ultimately safeguards both the lender's investment and the borrower's financial health.
Our biggest goal is to ensure you make it through our program successfully. That means being able to afford your vehicle comfortably so that it allows for on-time payments that can boost your credit score!
Buy Here Pay Here Requirements: Flexible Down Payment Options
The down payment is a critical aspect of Buy Here Pay Here financing. It serves as the foundation of the loan agreement. It reduces the loan's total cost and demonstrates the buyer's commitment to fulfilling their financial obligation.
At Westland Auto Sales, we understand that everyone's financial situation is unique. That's why we offer flexible down payment options designed to accommodate various budgets and financial scenarios.
Our down payments start at $500. They are adjusted based on your specific situation to ensure your highest chance of success through the program.
We strive to work with our customers to create a down payment plan that fits their individual circumstances, ensuring a smoother and more affordable car program experience.
Note: We always recommend everyone place as much down payment as possible. Even if you are admitted with only $500 down on a car, you should consider placing more. This will help reduce payments, loan term, interest paid, and secure your position best. You can learn about saving up a good down payment here.
---
Buy Here Pay Here Requirements: Application Process and Documentation
---
Navigating auto financing shouldn't be a maze.
At Westland Auto Sales, we've simplified the application process. It's designed to make your journey to car ownership straightforward and hassle-free. Our website comes equipped with various tools and features to guide you every step of the way.
Buy Here Pay Here Requirements: Necessary Documentation
In order to expedite the financing process, applicants need to prepare certain documents. These include:
valid photo identification (like a driver's license or photo ID)
proof of residence (such as a utility bill with your name, recent date, and address)
proof of income (recent pay stubs or bank statements)
references
Each document plays a vital role in the loan approval process.
Identification verifies the applicant's identity, proof of residence confirms their current location, and proof of income authenticates their financial ability to repay the loan.
References are useful as they give an added layer of assurance about the applicant's reliability and responsibility. This could be friends, family members, or co-workers you are close with.
Walkthrough of the Application Process at Westland Auto Sales
The application process at Westland Auto Sales has been streamlined to prioritize convenience and a user-friendly experience. The process is as follows:
Visit the Westland Auto Sales website and navigate to the 'Apply Online' tab.
Fill out the online application. This requires basic personal information, employment details, and a summary of your financial situation.
Submit the necessary documents. Your designated consultant will reach out within minutes to go over details. You can also call them directly and request where to send your information.
Our finance team will review your application and documents.
Upon approval, set up an appointment to visit Westland Auto Sales.
Find the best-suited car for you and finalize the deal.
Drive home in your new car!
To facilitate this process, our website offers a variety of tools, including a car loan calculator and a comprehensive FAQ section. Our goal is to make your auto financing experience as seamless as possible.
---
Benefits of Buy Here Pay Here Financing
---
Opting for Buy Here Pay Here financing at Westland Auto Sales comes with a plethora of advantages for customers. Convenience, speedy approval processes, and the opportunity to rebuild one's credit.
This makes the option a sound choice for those seeking auto financing.
Convenience in Buy Here Pay Here Requirements
The convenience factor is particularly notable. Most buy here pay here car requirements are easy to meet and allow for a one-stop-shop experience.
Customers can choose a car, secure financing, and make their payments all at the same location.
This unique approach minimizes the complications typically associated with purchasing a car.
Quick & Easy Approval Car Financing
Since the buy here pay here requirements are fulfilled quickly, it makes the approval process even faster. This ensures customers can get on the road immediately.
You can expect to be in and out of a dealership the same day within 2-4 hours. At our own buy here pay here dealerships, we've managed to get this down to under an hour and a half.
The more prepared you come, the faster and easier we can make it for you. We value efficiency and understand the need for a swift resolution to your auto financing needs.
Credit Rebuilding Options by Meeting Buy Here Pay Here Requirements
Lastly, one of the most significant benefits of Buy Here Pay Here financing is the chance it provides to rebuild credit. Consistent, on-time payments are reported to credit bureaus. This offers a tangible path toward credit score improvement.
However, a warning here; not all buy here pay here car dealers report to credit. We strongly recommend that you research them ahead of time to find out. Don't be afraid to call and ask them if they do and request proof. If they don't report to credit, we urge you to reconsider working with them.
Benefits at Westland Auto Sales – Fresno's Buy Here Pay Here Car Dealer
Think because the buy here pay here requirements are almost identical that the car dealers will as well? Ha! Think again.
Let me show you just how different your experience will be from one to another.
Unique Used Cars
3-7-year-old vehicles – to provide you reliability and comfort, we carry a newer car inventory. The average year range at other buy here pay here car dealers are 10-20 years.
60,000-120,000 miles – your peace of mind is paramount and is ensured by providing a lower mileage car. The typical range at other places is 150,000-200,000+.
Cars, Trucks, SUVs, Vans – you need a vehicle that will fit your needs perfectly. We offer every type of family vehicle to help accommodate you. Most other BHPH lots deal strictly with one or another.
Unique Financing
Low down payments – financial stresses are reduced by letting you keep more money in your pocket for emergencies. Our down payments start at only $500 while other lots ask for a minimum of 50%.
Flexible Payments – stressing over your payments is a thing of the past. We tailor your payment plan to accommodate your schedule and guarantee a payment customized to your individual income.
Interest-free Program Option – If you don't want to pay interest, we have a 0% APR program option! No other place offers this in our area.
Credit reporting – Good credit allows for opportunities to open up that will change your life. We offer credit reporting to help you improve your credit with every payment you make. This is extremely rare to find at any other buy here pay here car dealer.
Service & Repair
On-site repair facility – you don't need to stress about finding a reliable place to keep your vehicle running smoothly. Our on-site service shop knows the inventory inside and out and keeps a record of it all. Other places outsource their work to random mechanics.
15% discount on service – you can save money by being provided an automatic 15% discount on any service performed at our repair facility! Unheard of in our field.
Interest-free financing on service – Don't have the full amount to pay for your service or repair? We've got you! Get interest-free financing and pay it back with your regular payments.
Free warranty – You deserve peace of mind and another way we provide it to you is with a free warranty. This covers the major components that make the vehicle run for the most crucial time, 30 days or 1,000 miles.
Free 2-year warranty – Didn't think that was enough? Us either. So rest easy knowing you're covered for 2 years or 24,000 miles on all the big ticket items like motor and transmission! No other buy here pay here dealership in our area has ever even dreamed of this…
Accountability & Success Approach
Dedicated attention and appreciation – We assign a dedicated Account Success Representative who will help you navigate through the program. They will help keep you on track and always show you how valued you are.
Constant support – The consultant who helped you get a car and join the program won't stop there. They will keep in touch with you throughout the program as well and proactively allow you to bring things up to help you succeed.
Bonus Benefits
Resources on improving credit – Understand the ins and outs of credit with our content to allow you to improve it and get ahead in life. Good luck finding that elsewhere.
Resources on handling money – Knowing how to handle money is the surefire way to guarantee your success in life. We will help you with it. We have tons of content to help you understand finances and put it into practice.
Resources on maintaining your vehicle – vehicle maintenance will do away with the majority of stresses in your life. Our organization dedicates itself to ensuring you successfully make it through our program.
Discounts and relationships with other local vendors – You deserve to be well taken care of and don't have the time to go looking for people last minute. Having been in business for nearly 20 years has allowed us to build strong relationships with other local businesses. We provide you discounts and easy access to our list of trusted local businesses.
Customer Success Stories and Testimonials
Numerous Members have capitalized on the advantages offered by Westland Auto Sales. From those who improved their credit scores to individuals who secured reliable transportation despite financial setbacks, our Buy Here Pay Here financing program has many success stories.
One such story comes from Ashley Guidry.
Ashley is a single mother who had experienced credit challenges in the past. She had been unable to secure a reliable vehicle to get her son to school and herself to work. She reached out to us and asked about our buy here pay here requirements.
After explaining our process to her, she came in and secured a reliable car. Through our Buy Here Pay Here program, she was able to purchase a reliable vehicle for her daily commute and school runs. All of this while working to rebuild her credit.
Fast forward a few years later and Ashley is on her 4th vehicle with us! She's gone back to school to secure her certification in nursing. This has allowed her to get a higher wage, better home, and is currently working on saving up to purchase her own house!
Best of all, she no longer needs to finance through our buy here pay here program. Instead, she can comfortably get an approval through a traditional lender.
These real-life examples highlight the profound, positive impact the right Buy Here Pay Here financing can have. They represent just a fraction of the numerous Member success stories at Westland Auto Sales.
You can find more on our testimonial page and even more through our reviews.
---
Only One Buy Here Pay Here Requirement Left…
---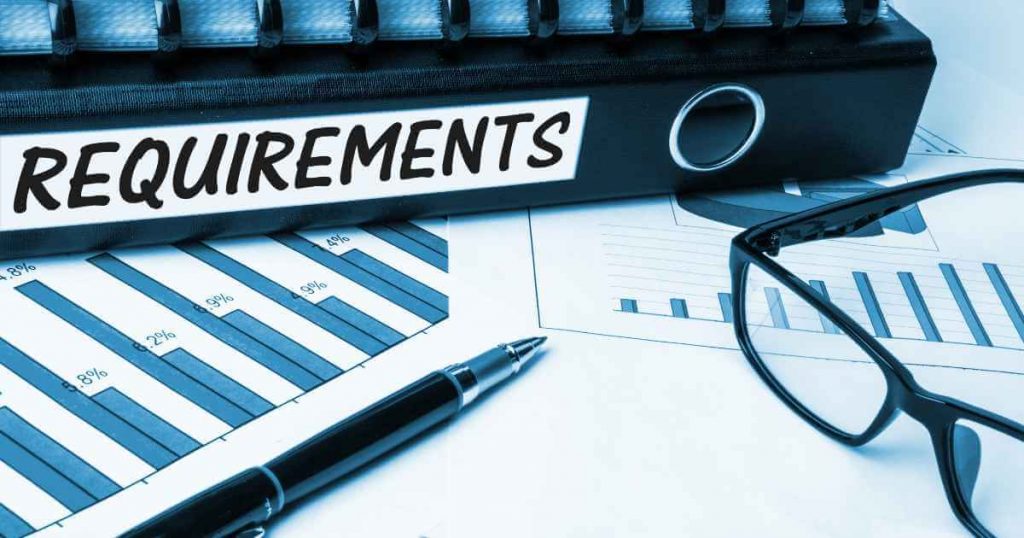 Navigating auto financing with credit challenges can seem daunting. By understanding the auto financing requirements of Buy Here Pay Here can simplify the process and provide a viable solution for securing a car loan.
Knowledge is power in navigating your path to car ownership.
We encourage you to explore the Buy Here Pay Here financing option further. Check out our website or reach out to our team for more information.
If you need one closer to you, use our guide to help you find a reliable car dealership.
We've compiled answers to some of the most common questions about Buy Here Pay Here financing. We hope this can help you on your journey!
Q. Can I get approved for Buy Here Pay Here financing with bad credit?
Of course! Buy Here Pay Here financing is specifically available to assist those with poor or no credit secure auto financing.
Q: What if I have no credit history?
Even without credit history, your approval is possible for Buy Here Pay Here financing. We prioritize your income and ability to make regular payments over your past credit history.
Q: Are the interest rates higher for Buy Here Pay Here financing?
Interest rates can vary based on numerous factors. They are usually higher than traditional loans due to the increased risk involved with lending to individuals with poor or no credit. In California, buy here pay here rates are in the range of 26-36%. Our own Credit Solutions Program has rates as low as 0%!
Q: How long does the approval process usually take?
At a typical buy here pay here car dealer, you can expect the process to take anywhere from 3-4+ hours. We've had Members of our program be in and out of our dealership within the hour. It all comes down to understanding the requirements and coming prepared.
Q: Can Buy Here Pay Here financing help me rebuild my credit?
Yes, it can! The key is ensuring the buy here pay here car dealer you are joining is capable of reporting to credit. If they do, then you are on your way to improving your credit. Making consistent, on-time payments with a Buy Here Pay Here financing plan contributes to rebuilding your credit. These payments report to credit bureaus which increase your score.
Understanding Buy Here Pay Here financing requirements can help you overcome credit challenges and secure auto financing. Why wait? Take the next step towards owning your dream car.
Contact us or visit our dealership today!
Disclaimer: The information provided in this article is for educational purposes only. It is not financial advice. Always consult with a qualified financial professional for personalized guidance.